Raids

Fridays 9pm-12am (Server)Eastern/6pm-9pm Pacific
The planned roster is Eightysixed Raid Roster. NOTE: If you arent on it contact Megalithe
RSVP
All raiders are expected to RSVP for events ahead of time so the roster can be planned and if applicable, feedback can be provided with time to correct issues.
We use Guilds of WoW to create events and automate invites based on our requirements. You can RSVP via one of the following methods:
ingame via /calendar command NOTE if you are missing the event you probably do not meet requirements, contact Guild admin for assistance.
GSite Events page
Discord #events-calendar channel. Note you will need a Guilds of WoW account that is linked to your Discord account. <this is the easiest method to RSVP for events on the go.
NOTE: RSVPs are sync'd via client the GM runs to sync event data in/out of game.
You can also export events to a calendar app of your preference by navigating to the event on the guild site and clicking the calendar button and selecting the applicable Calendar to export to.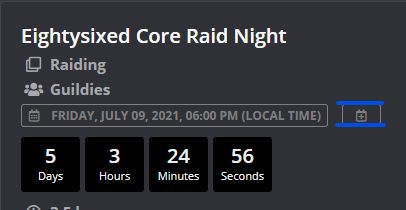 Addons/Weakauras:
Boss Mod: Either Deadly Boss Mods (DBM) or Bigwigs
Weakauras - specific auras will be shared
Character requirements
Your character is expected to meet the following requirements:
210+ilvl - catch up guide
Legendary Upgraded to 235+
Gemmed and Enchanted
A stack of personal food
Consumables are provided for all Guildies.
Runes are not provided, and members are encouraged to use their covenant followers to stock up
Donation needs are posted here
BoE Policy - the guild harvests BoE's to sell to fund the guild's consumable needs. If donations or funds are in excess we will adjust this policy as needed.
Study Up:
Streamers
If you are streaming Guild activities please contact Megalithe so we can link your Twitch profile to guild events/notify members of streams.

Reference Materials:
https://www.wowhead.com/guides/sanctum-of-domination-raid-loot-chains-of-domination-9-1
https://www.wowhead.com/news/patch-9-1-week-1-to-do-list-survival-guide-and-giveaway-323113